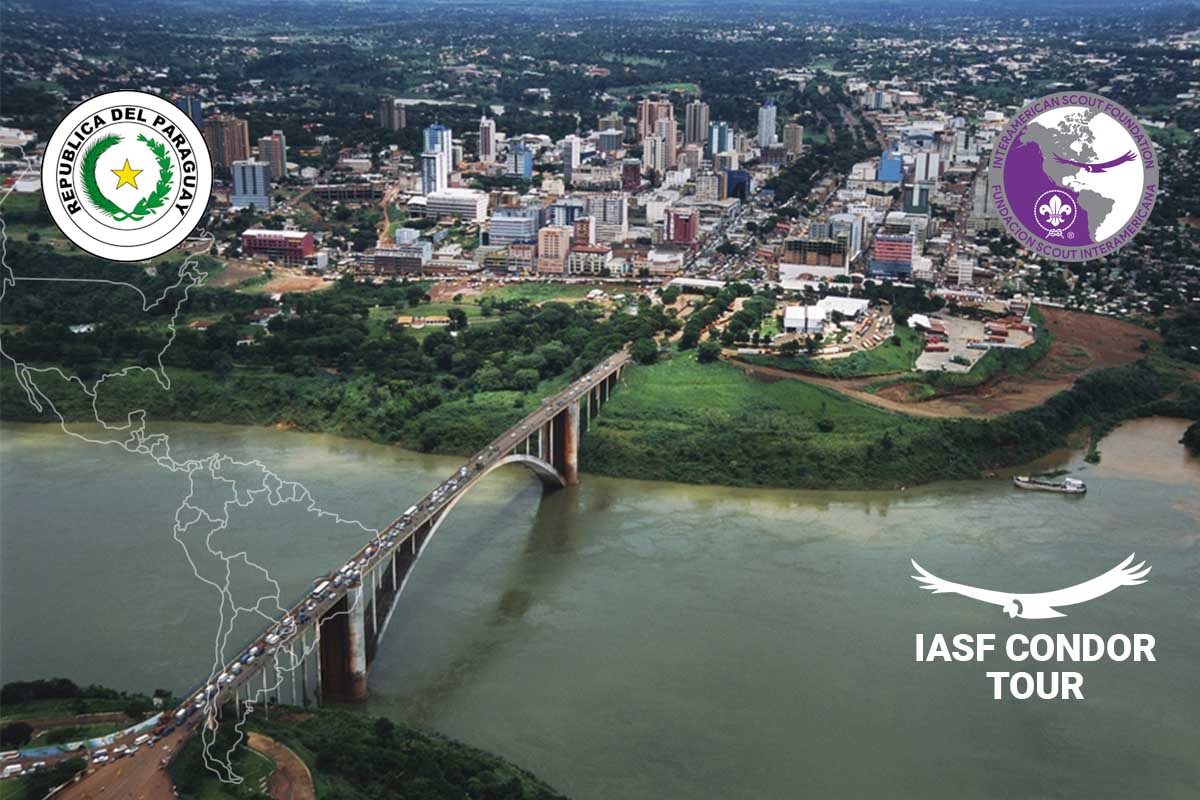 ¡Es un gusto saludarlos y pronto poder reencontrarnos, en un evento Scout, después de tanto tiempo!.
Estamos muy contentos de poder contarles que para la próxima Conferencia Scout Interamericana en Ciudad del Este, Paraguay,  la FSI estará desarrollando el primer  "IASF Condor Tour" para todos aquellos miembros de la Orden del Cóndor que deseen compartir una estadía de camaradería e intercambio scout. 
Con el objetivo de pasar unos días con todos nuestros donadores, hemos organizado este Tour  para que podamos disfrutar en conjunto.  
A continuación les comentamos todos los detalles.
¡Los esperamos !
¡Siempre listos!
Fundación Scout Interamericana
---
Descarga la Circular Nº 1 aquí
---
Donde y Cuando
Ciudad del Este es una ciudad ubicada al extremo este de la Región Oriental de la República del Paraguay.  Es la capital del departamento del Alto Paraná y se encuentra situada a 327 km de la capital del país, Asunción. 
Es la ciudad más grande de la Región denominada Triple Frontera, conformada con Foz de Iguazú, Brasil, y Puerto Iguazú, Argentina, que constituyen un aglomerado transnacional de casi un millón de habitantes. En las cercanías de la ciudad se encuentra la Represa de Itaipú, una de las centrales hidroeléctricas más grandes del mundo.
El IASF Condor Tour se realizará del  23 al 26 de noviembre de 2022.
¿Quiénes pueden participar del evento?
La Fundación Scout Interamericana ha diseñado, por primera vez,  un programa exclusivo  de participación,  con el objetivo de brindarle a todos los miembros de la Orden del Cóndor e invitados una experiencia de reencuentro y camaradería en el marco de la 28ª Conferencia Scout Interamericana, Paraguay 2022.
Costo 
El costo del programa del IASF Condor Tour es de U$S 300.- (trescientos dólares americanos).
 Inscripción y pago
Para inscribirse en el IASF Condor Tour deberán ingresar en el siguiente enlace : Click en el enlace para inscribirte
El pago de la cuota se podrá hacer a través del cupón de pago en este sitio o por los datos de transferencia bancaria en el siguiente link: 
El proceso de registro y pago cierra el 30 de setiembre de 2022.
---
Programa IASF  Condor Tour
Miércoles (Nov 23)

Participación de la apertura oficial de la 28ª Conferencia Scout  Interamericana y Foto oficial.

Cena bienvenida en exclusivo club de Golf.

Jueves (Nov 24)

Almuerzo y visita al Salto del Monday, una maravillosa cascada natural para disfrutar con diferentes vistas y actividades propuestas. 

Noche de las Américas de la 28ª Conferencia Scout Interamericana, donde los participantes podrán intercambiar costumbres, sabores y culturas con las diferentes Organizaciones Scouts que compartirán las tradiciones de cada país.

Viernes (Nov 25)

Visita a la Reserva Tati Yupi  y Complejo Hidroeléctrico Itaipú,  visita y actividades a la segunda Represa Hidroeléctrica más grande del mundo y almuerzo en las instalaciones, regreso por la tarde.

Cena en restaurante Italiano.

Sábado (Nov 26)

Mañana libre, paseo de compras en el Shopping Paris, uno de los centros comerciales más importantes de Ciudad del Este. 

Visita al Grupo scout Paraná y almuerzo de camaradería.

Cena de clausura de la 28ª Conferencia Scout  Interamericana y entrega de reconocimientos a nuevos miembros de la Orden del Cóndor y nuevos upgrades.
---
Check and Bank transfers
Download Order of the Condor Membership Commitment
¡Esperamos contar con todos ustedes en el IASF Condor Tour !
Para mayor información  comunicarse con:   [email protected]
Join Us
We Need Your Help