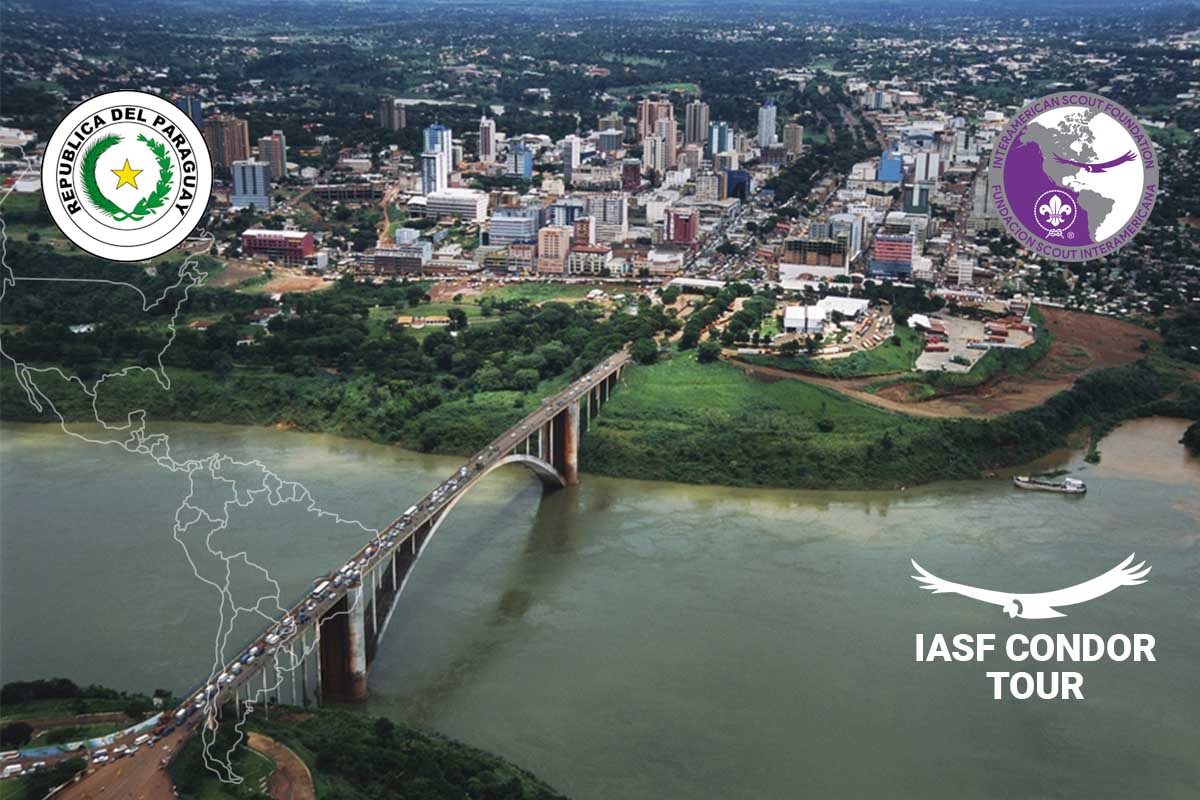 We are happy to announce our first ever Order of the Condor meeting: the IASF Condor Tour. The event will take place during the Interamerican Scout Conference in Ciudad del Este, Paraguay, November 23 to 26, 2022. 
The event aims at networking and camaraderie among members while participating in some of the Interamerican Scout Conference activities as well as having an opportunity to visit Paraguay's tourist attractions including the Salto de Monday Falls.
Full details are included below.
Yours in Scouting,
Interamerican Scout Foundation
---
Download the 1st Circular Info here
---
Dates 
The IASF Condor Tour will take place between November 23rd and 26th. 
Location 
Ciudad del Este is a city located at the eastern end of the Western Región of the Republic of Paraguay. It is  the largest city in the so-called Triple Frontera, that also includes Foz de Iguazú (Brazil) and Puerto Iguazú (Argentina). This landmark constitutes an international hub for almost one million inhabitants. The vicinity includes the Itaipú Dam, one of the largest hydroelectric power plants in the world.
Participation
All members of Order of the Condor and their guests
Costs
The cost of the IASF Condor Tour program is U$S 300.- (three hundred US dollars).
Registration and Payment
Complete the following form:  Registration Form Link 
Payment can be made  through PayPal / Stripe or Bank Transfer (details on site) 
Registration Deadline
Registration closes on September 30th, 2022. 
---
Schedule
Wednesday (Nov 23)

Participation in the official opening of the XXV Interamerican Scout Conference and official photo. 

Welcome dinner at an exclusive golf club. 

Thursday (Nov 24)

Lunch and visit to Salto del Monday, a wonderful natural waterfall to enjoy with different views and proposed activities. 

Night of the Americas of the XXV Interamerican Scout Conference, where the participants will be able to exchange customs, flavors, and cultures with the different Scout Organizations that will share the traditions of each country. 

Friday (Nov 25)

Visit to the

Tati Yupi Reserve and Itaipú Hydroelectric Complex, visit and activities to the second-largest Hydroelectric Dam in the world, and lunch at the facilities, return in the afternoon.

Dinner at an Italian restaurant.

Saturday (Nov 26)

Free morning / shopping trip at Shopping Paris, one of the most important shopping centers in Ciudad del Este. 

Visit to the

Paraná Scout Group and camaraderie lunch.

Closing dinner of the XXV Interamerican Scout Conference and awards ceremony for new members of the Order of the Condor and new upgrades. 
---
To register and make payment click on the registration coupon
We look forward to having you all at the IASF Condor Tour! 

To become a member of the Order of the Condor:
Download Order of the Condor Membership Commitment
For more information contact: [email protected]
Join Us
We Need Your Help