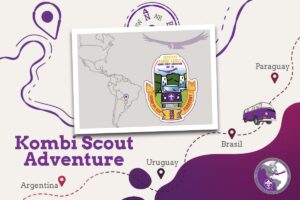 $16,110
of
$20,000
raised
This new challenge is a journey through different Latin American countries. It's goal is to support the projects presented at the Interamerican scout youth forum 2022. Find out more!
Donate Now
Kombi Scout Adventure
$16,110
of
$20,000
raised
What is it about?
Meet ALMA, a 1987 VW Combi that will be joining us on this new journey.
Kombi Scout Adventure is a new solidarity challenge of great importance for Latin America and the Caribbean, through which we will travel to different cities in the region, in order to meet organizations and scout groups that want to contribute to the cause.
What is the purpose of the trip?
We will seek to raise funds to continue supporting youth projects presented at the Inter-American Youth Forum of our beloved Inter-American region.
You can visit the projects that will be supported in our new section "Gallery of Young Projects"
We invite you to join us in this new adventure and to follow step by step all the work and dedication that we will put day by day to the trip. ALMA will be our symbol and our home for many days. We will be recording and sharing each of the things we will do with it: we will visit organizations, scout groups and of course we will try to generate funds for the "Interamerican Scout Aid" program with your contributions and help.
How to follow the trip?
We encourage you to be part of each of our steps through our social networks, youtube, and on each of our channels so you can see how we follow the step-by-step preparation of ALMA to start the journey.
Wherever you are, you can be part of this new adventure!
Instagram: https://instagram.com/iasfoundation?igshid=YmMyMTA2M2Y=
Facebook: https://m.facebook.com/iasfoundation?refid=46&tsid=0.9593531372899853&source=result
Youtube: https://www.youtube.com/channel/UCgEBTzc35DBXR8rKNE0SlPQ
Español
¿De qué se trata?
Te presentamos a ALMA, una VW Combi de 1987 que nos acompañará en este nuevo viaje.
Kombi Scout Adventure es un nuevo desafío solidario de gran importancia para América Latina y el Caribe, a través del cual recorreremos distintas ciudades de la región, con el fin de conocer organizaciones y grupos scouts que quieran aportar a la causa.
¿Cuál es el objetivo?
A lo largo del viaje buscaremos recaudar fondos para seguir apoyando a los proyectos juveniles presentados en el Foro Interamericano de Jóvenes de nuestra querida región interamericana.
Pueden visitar los proyectos que serán apoyados en nuestra nueva sección "Galería de Proyectos Jóvenes" aqui…
Te invitamos a que nos acompañes en esta nueva aventura y a que sigas paso a paso todo el trabajo y dedicación que pondremos día a día al viaje. La camioneta ALMA será nuestro símbolo y nuestro hogar por muchos días. Iremos registrando y compartiendo cada una de las cosas que haremos con ella: visitaremos organizaciones, grupos scouts y por supuesto trataremos de generar fondos para el programa "Ayuda Scout Interamericana" con tus aportes y ayuda.
¿Cómo seguir el viaje?
Te proponemos ser parte de cada uno de nuestros pasos a través de nuestras redes sociales, youtube y en cada uno de nuestros canales para que puedas ver cómo seguimos el paso a paso de la preparación de ALMA para iniciar el viaje.
Estés donde estés, ¡puedes ser parte de esta nueva aventura!
Instagram: https://instagram.com/iasfoundation?igshid=YmMyMTA2M2Y=
Facebook: https://m.facebook.com/iasfoundation?refid=46&tsid=0.9593531372899853&source=result
Youtube: https://www.youtube.com/channel/UCgEBTzc35DBXR8rKNE0SlPQ